ultra modern
35 stars including Shahrukh-Salman-Aamir in the same series!
35 stars including Shahrukh-Salman-Aamir in the same series!
A new series has been created for Netflix, the most popular video streaming platform in the world. Where not two or four people, but 35 Bollywood stars can be seen. Among them are superstars like Shahrukh Khan, Salman Khan, Aamir Khan.
The series is called "The Romantics". It is basically a documentary series about the epic cinematic journey of Yash Chopra, the founder of Yash Raj Films, a Bollywood production house. Where he and his son Aditya Chopra's film artists are interviewed.
The trailer for the series was released on Wednesday, February 1. Three generations of stars are said to have coordinated in this series. These include Amitabh Bachchan, Shahrukh Khan, Aamir Khan, Salman Khan, Kajol, Abhishek Bachchan, Rani Mukerji, Ranbir Kapoor, Ranveer Singh, Salim Khan, Katrina Kaif, Anushka Sharma, Hrithik Roshan, Bhumi Pednekar, Karan Johar, Madhuri Dixit , Rishi Kapoor, Neetu Kapoor, Juhi Chawla, Ayushmann Khurrana etc.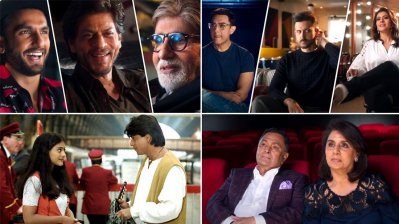 But Aditya Chopra will be seen as the biggest surprise. Because he never comes in front of the camera. Aditya last gave an interview for a magazine in 1995. After that, he was never seen in any interview-chats.
The series was produced in four episodes. It is directed by Smriti Mundra. It will be released on Netflix on February 14.
It should be noted that Yash Chopra is called the "father of romance" in Indian cinema. He produced timeless romantic movies like 'Silsila', 'Lamhe', 'Kaavi Kaavi', 'Veer-Zara', 'Dil Toh Pagal Hai', 'Chandni', 'Jab Tak Hai Jaan'.
Source: Bollywood Hungary


#stars #including #ShahrukhSalmanAamir #series