As long as you are, I am: James
bangla rock song togbag young james. Citizen Baul Beshe who has carried the flag of rock music for four decades with a finger-picking guitar; On the way to Bengal. In a low voice, he repeatedly assured the millions of young people scattered across the world saying – the father of the way is the spirit / the mother of the way is the mother / I will find my address in the middle of the way. …
This true rock star turned 58 on Sunday October 2. Happy Birthday Bangla Rock Hero Farooq Mahfuz Anam James.
One of the subcontinent rockers was born on this day in 1964 in Naogaon. But all of his growth and involvement in music happened in Paharkanya Chittagong. Music developed in Dhaka. Although now it is no longer limited by borders. After conquering Bollywood, it is now popular all over the world.
While there's no shortage of fan frenzy and arrangements around the star on his birthday, James will spend this time in his own way, as always. He does not keep any concert recordings to this day. Perhaps he did not participate in any birthday celebrations. During the day, he prefers to be alone in Gutisutimere.
But send special messages to fans on every anniversary. This time, on the first hour of his birthday (October 2, 2022) (12:00 p.m.), he gave the same message via Bengali Tribune. James told fans, "As long as you're here, I'm here."
Can be said, life is too short. Everyone should go there. before and after However, an artist walks the path of Yugantar in the guise of a young person in the hands of his fans. That's why the message in Nagar Baul's voice is – As long as you're here, I'm here. Birthday is just a number.
James will remain in Bengal, in the pages of rock music's rich history; No doubt about it. However, this young man of 58 years has not stopped yet. It is still the most expensive show at home and abroad. Sometimes taking a long break from new songs, but recently took the initiative to release songs regularly. On May 2, after 12 consecutive years, he appeared with a new music video "I Love You". In the last week of this month, he returns with a new song. Nagar Baul confirmed it.
Nagar Baul's manager Rubaiyat Thakur Robin said the new song will be officially announced soon.
Meanwhile, today (October 2) around Nagar Baul's birthday, hundreds of fan clubs at home and abroad organized various events, which take place every year. Every year there are new surprises from fans at these events. In this sequel, a fan named Dalim Swadhani released a song titled "Guru Tumi Oxygen" aimed at Narar Baul. which went viral on the internet on Saturday October 1st at midnight. The song through which Bhakta Dalim expressed his admiration for the Guru.
As City Bowl fans may know, James' father was a government official. Who later served as the Chairman of the Chittagong Board of Education. James started practicing music at the expense of his family. Once he ran away from home to listen to music. Boarding at Aziz Boarding in Chittagong. From there, his main musical career began.
Founded the group "Feelings" in 1980. The first album "Station Road" was released in 1987. In 1988, James released a single album named "Ananya" and became a super hit. After that, the albums 'Jeil Tone Bagayu' in 1990, 'Nagar Baul' in 1996, 'Leis Fita Lace' in 1998, 'Collection of Feelings' in 1999 were released.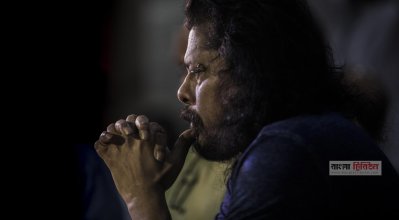 After breaking up 'Feelings', James formed the band 'Nagar Baul' in a new lineup. The band got caught up in the 'Naughty Boys' and 'Beezley' albums. After that, he released single albums 'Dukhini Dukh Korona', 'Thik Khai Bandhu', 'Ami Ukhushei Lok', 'Janta Express', 'Tufaan' and finally 'Kal Jamuna'.
Meanwhile, the single "I Love You" was released this year after a period of releasing the latest album.
Photo: Sajjad Hossain


#long #James