music
'Chirkoot' Sumi at the Creative Global Leadership Summit
'Chirkoot' Sumi at the Creative Global Leadership Summit
The conference of all leaders playing a creative and effective role in global climate change was held in Sweden. Sharmin Sultana Sumi, leader of the country's popular group "Chirkut", participated for the first time as a Bangladeshi in the event entitled "Creative Climate Leadership-Scandinavia".
Representatives from various countries participated in the conference held on November 2 in Stockholm, Sweden. Participating in this event, Sumi highlighted her musical initiative "Nadirox" in raising public awareness of climate change.
Salt Creative set up this initiative under the leadership of 'Nadirox' Sumi, combining the power of climate, river, youth and music. Every popular group in the country has sung about the country's threatened rivers. In addition to releasing these songs, Sumi has also started concerts nationwide. Which he aims to spread worldwide. This time, international leadership who have played a role in creative ways to protect the climate joined the journey.
Sumi's initiative was highly appreciated at the conference. So much so that the artist is very impressed.
He said organizations, university professors, artists, policy makers who work on the global environment from several countries, including Norway, Sweden, Denmark, Finland, Iran, Switzerland and United Kingdom, were present at this conference. This event aims to make more people aware of the environment in a creative way.
Representatives of Greta Thunberg's "Fridays for Future", who shook the world with the environmental movement, also attended.
Sumi from Norway said, "This is an opportunity to let the world know about our collective efforts from Bangladesh to protect the climate and rivers with 'River Rocks'. The initiative was applauded by everyone present here. Overwhelmed listening to the history of our river, listening to the music of the bands. Here the musicians of these countries wanted to play the songs of Nidirnox. Many people want to join 'Nadirox'. Many people also want to work on this idea in their country. The whole atmosphere of the event was very family-oriented, creative. Where everyone is actually thinking about the world back home or trying to do something.
"As human beings we have many limitations, maybe there is more for the world to do." Sumi adds.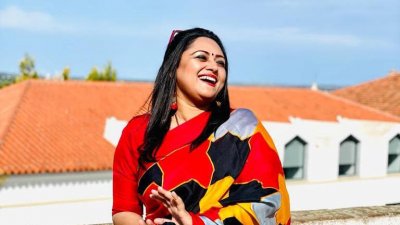 This chirkut leader is on a world tour to participate in two of the biggest musical conferences in the world. After participating in the international music conference "Omax" held in Portugal, he is now staying in Norway to participate in the famous "Oslo World Music Festival". Before participating in the festival, he participated in the international climate conference in Sweden.
The next session of this international conference will take place in Canada.


#Chirkoot #Sumi #Creative #Global #Leadership #Summit