the movie
Freedom to make a fuss, reform of the FDC and other demands…
Freedom to make a fuss, reform of the FDC and other demands…
The newly formed organization 'Film Alliance of Bangladesh' or FAB with creative work. On the initiative of this organization, a conference entitled 'Fab Fest' was held at the Bangla Academy on Friday 30 December. Where different generations of creators, screenwriters, cinematographers, producers, content creators, writers, media professionals and people involved in visual culture have participated. For the first time, such a creative summit took place in the country.
The Fab Fest was opened at 9:30 am by eminent actress Ferdousi Majumder, writer Faridur Reza Sagar, filmmaker Mosiuddin Shaker and Morshedul Islam. Producer Nasir Uddin Yusuf gave the welcome speech. Armin Musa, Tanushree Das, Rezaul Karim, Yusuf Ali Khan, Ahnaf Khan and others performed songs in the inaugural episode.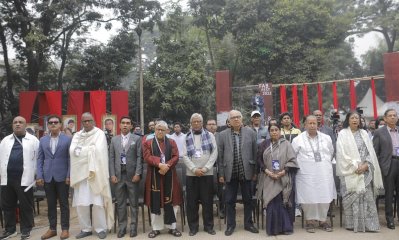 The Fab Fest was organized with the aim of "reforming" the principles of cinema or visual arts and "redefining" the current era of Bengali content. In the words of the organizers, it is a "festival of thought transactions". Through this festival, manufacturers and workers raised various demands, including freedom to tell stories, reform of the FDC, establishment of timely policies.
After the inauguration, a panel discussion titled "Bangladeshi Cinema at a Crossroads: How Reform Can Propel Us Forward" was held. Justice Minister Anisul Haque MP, Builder Mustafa Sarayar Faruqi, Blacksmith Ahmad Simon, Piplu R Khan and Lawyer Moin Ghani participated in the discussion moderated by Noor Safa Zulhaj.
Producer Qamar Ahmad Simon believes modernization of Censor Board policy is needed. He said, "The censorship law was introduced to avoid various accidents and to control later. Now the mood of the times must be understood, otherwise nothing new will be created. We and the new producers have a certain pride, so we sat behind the barbed wire (press conference held at the press club)".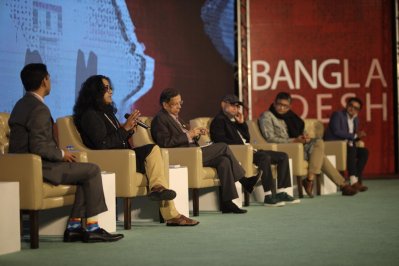 Lawyer Moin Gani thinks: "Filmmakers may think they want to control the legal framework of the country. But this is not very possible at this time. Hollywood, Bollywood grew up in the federal system. Filmmakers should discuss with policy makers.
According to director Noor Safa Julhas, it is necessary to form a film commission at the national level. From where all permissions related to construction can be obtained. Producer Mustafa Saryar Farooqui also expressed his solidarity with this statement. He commented, "If I want to do a job with Metrorail now, I have to visit different departments. But if there is a film commission, then all problems will be solved in one place.
Faruqi said, asking for freedom to tell the story, "Why can't I watch the story I'm watching on Netflix with charki or noise?" If I want to put my country's content there, I can't do it with the freedom with which the makers of Netflix make movies. This freedom is needed right now.
Besides, Farooqui also suggested some reforms of the government grant for film making. According to him, at least half of the subsidy should be given to new builders. Then good stories will appear on the screen.
Against these words of the builders, the Minister of Justice Anisul Haque declared: "The government is there to help you. Never think that the government is another party. We raised our hands. And if there is a case on behalf of artists, I will ensure that no artist is arrested. Like to talk first. And I will carry your words where I need to go.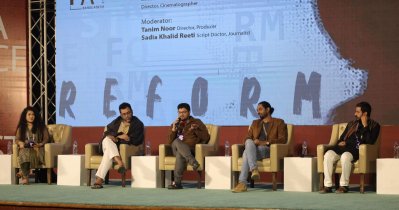 A discussion on "Going Wild, Going Genre" took place starting at 11:30 a.m. It brought together actor and producer Eresh Zaker, filmmaker Syed Ahmed Shawqi, Nuhash Humayun and Mohammad Tawkir Islam. The episode was hosted by producer Tanim Noor and film critic Sadia Khalid Riti.
Then from 12:30 p.m., documentary filmmaker Manjare Hasin Murad, filmmaker Shabnam Ferdowsi, documentary filmmaker Humaira Bilkis and Elizabeth de Costa took part in the discussion on Bangladeshi documentary films. The episode was hosted by Tarek Ahmed.
In the afternoon, a case study on "How to Wear and Carry Brot Down the House" took place. It is hosted by Amitabh Reza Chowdhury of "Aynabaji" fame. Dr. Additional Secretary (Film) of the Ministry of Information and Broadcasting attended the session with him. Jahangir Alam, Producer Esha Yusuf, Producer Raihan Rafi and Executive Producer of 'Hawa' Shimul Chandra Biswas.
Amitabh Reza said that within the next three weeks, an advisory proposal will be given to the Film Development Corporation (FDC) for reforms. He commented, 'FDC no longer works. Because the machinery there is no good. If there is a camera, there is no lens or filter, even if there is a colorimeter, there is no monitor. We will make a proposal on all the reforms. It will also be posted on Fab's Facebook.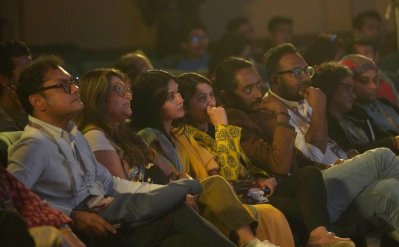 The permission of the censor board is required for the release of the film. In this process, the producer must lose money. The request to rescind the rule also came up in the discussion. However, the Additional Secretary (Film) of the Ministry of Information and Broadcasting, Dr. Jahangir Alam says it takes 15,000 taka to get a NOC. I don't think it's a lot of money. I spoke to the MD of the FDC. He said, if the ministry asks to turn it off, then I will. However, members of the Association of Producers, Association of Directors may be required to be members. I personally think they are not necessary.
A discussion entitled 'Stay Local, Go Global: Producers' Perspective' took place from 3:30 to 4:00 p.m. Where Director Rezwan Shahriar Sumit, Director-Producer Abu Shahed Imon, Director-Producer Arifur Rahman and Producer Adnan Imtiaz Ahmed participated. The episode was hosted by producer Sara Afrin.
Producer Gausul Alam Shaon moderated the discussion on "Content as Currency" in the evening. BTRC Chairman Shyamsunder Sikdar, Ekatar TV Managing Director Mozammel Babu, HSBC Bangladesh Managing Director spoke in this episode. Mahbub Ur Rahman, Star Cineplex General Manager Mahbub Rahman, Toffee Director Abul Mukit Ahmed, Director Ashfaq Nipun, and more.
After that, filmmaker Syed Salahuddin Zaki, actor Raisul Islam Asad and actress Laila Azad Nupur took part in the commemoration of the legendary film "Ghuddi".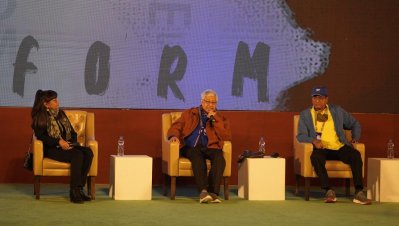 A special screening of the film "Kura Pakhir Zhunne Uda" took place around 8:30 p.m. After that, film producer Mohammad Qayyum and teacher Manas Chowdhury took part in the question and answer session.
Veteran actor Tariq Anam Khan gave the Fab Fest closing speech. The country's first creative summit ended with his speech.


#Freedom #fuss #reform #FDC #demands..