"I thought I would never come back"
People's hero Riaz Ahmed. Now he is not regular on the cinema screen. His last film "Krishna Paksha" was released six and a half years ago. Riyaz returns to the cinema after a long break with the film "Operation Sundarban". The film will be released on September 23.
On Thursday afternoon, September 8, a press conference and the official unveiling of the poster for the film "Operation Sundarban" was held at the Caravan Bazaar in the capital.
At the end of the press conference, Riaz said, "A new movie is coming after exactly six and a half years. I thought I wouldn't be in the movie! I wanted to act. I used to act in plays to satisfy that hunger. But good luck. Returning through films like 'Operation Sundarban', produced by RAB.
In Riaz's words, "Now the movie's good time is gone." A few days ago, 65 rooms were operational. But now 210 cinemas are operating. I believe that the release of "Operation Sundarban" at this time will greatly enrich our industry and our film culture. People will keep coming into the room."
He expressed his gratitude to Dipankar Deepan, the director of "Operation Sundarban", for bringing him back to the big screen.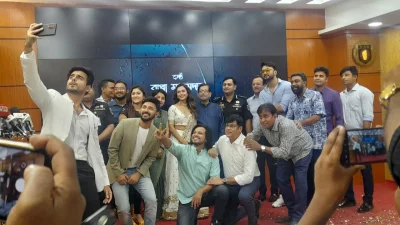 Asaduzzaman Noor (MP), the country's famous cultural figure, was the chief guest on the occasion, Commander Khandaker Al Moin, Director of Legal and Media Branch of RAB, was the special guest.
Actors Siam Ahmed, Nusrat Faria, Ziaul Roshan, Manoj Pramanik, artist-craftsmen from the film 'Operation Sundarban' were also present.


#thought