the movie
"Made in Chittagong" in 51 US theaters
"Made in Chittagong" in 51 US theaters
"Made in Chittagong," the first film made in the regional language of Chittagong, hits 51 theaters in 21 states across the United States on Friday, February 10. The film's US distributor is Bioscope Films LLC.
New York, New Jersey, Connecticut, Massachusetts, North Carolina, Nevada, Michigan, Missouri, Ohio, Oklahoma, Pennsylvania, Texas, Virginia, Washington, Maryland, Indiana, Illinois, Georgia, Colorado, California and Arizona, Raj said, CEO of Bioscope Films Hameed Ittefaq. "Made in Chittagong" will be released in 51 theaters.
He said, this movie is a romantic comedy. 'Made in Chittagong' is a movie to watch with the whole family. Although it is made in a regional language, the film has strong actors. Raj Hamid said that a press conference will be held very soon with the director and the film's crew in New York.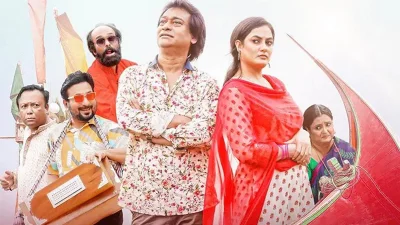 It should be noted that the satirical comedy film "Made in Chittagong" written by Riyad Bin Mahmood and directed by Imraul Rafat has already received censorship clearance. The film stars the group's star and actor Partha Barua and Aparna Ghosh in the lead roles.
Chitralekha Guha, Saju Khadem, Mukit Anwar, Nasir Uddin Khan and others are also there. The film was shot in various scenic locations in Chittagong and Rangamati. It featured two songs in the regional language of Chittagong. Partha Barua did it all, including the music.


#Chittagong #theaters