TV
'Sisimpur' will air daily for another 4 years
'Sisimpur' will air daily for another 4 years
The popular children's series "Sisimpur" has been broadcast daily since 2019 on Durant TV. This continuity will continue for the next 4 years.
Palash Mahbub, Media Advisor of Sesame Workshop Bangladesh, said this.
On this occasion, a bilateral agreement was signed between the production company Sisemi Workshop Bangladesh and Durant Television at the Sisimpur office on Monday 16 January. Mohammad Shah Alam, general manager of Sesame Workshop Bangladesh, and Abhijit Chowdhury, director of Durant Television, signed the agreement. Sesame Workshop CEO Steve Youngwood, Senior Vice President Shari Rosenfeld, Director of Research Alison Bryant, and USAID-Bangladesh Education Advisor Sudev Kumar Biswas were in attendance.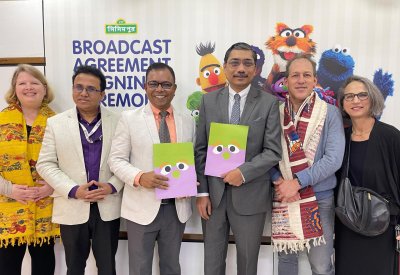 For 18 years, the "Sisimpur" program has been produced with the financial support of USAID-Bangladesh. What is currently the most acceptable name for children and parents in Bangladesh. The new season episodes of Sisimpur were produced as part of the ongoing USAID-funded Promoting Education for Young Learners project. Along with television activities, Sisimpur's digital and school activities also continue. Currently, 'Sisimpur' works for the development of education in 250 primary schools in the country.
In 2022, "Sisimpur" won the globally acclaimed Kidscreen Award for children's programming. With the cooperation of the Ministry of Women and Children, this series, which is very popular with children, has been broadcast continuously on BTV since April 15, 2005.


#Sisimpur #air #daily #years