the movie
Star Cineplex has announced the production of 4 films
Star Cineplex has announced the production of 4 films
Everyone knows the movie 'No Dorai', it's the country's first feature film about surfing. Which won the 6 National Film Award recognition of excellence beyond the fascination of the public. Star Cineplex, the nation's first multiplex company, produced the film in 2018-2019.
After 18 years of acclaimed broadcasts, the nation's largest multiplex channel authority announced some great news on Saturday night (October 8). The company took the initiative to produce 4 films together.
The organization's chairman, Mahbub Rahman, announced it during the colorful anniversary celebration held at the SKS Tower (Mahakhali) branch on Saturday night (October 8). He said, "There is a new wind in Bengali cinema now. We are very happy about it. I remember the year 2018. We were very disappointed then. Because like us, we weren't getting any films in Bengali. I made the film 'No Dorai' from this disappointment. And I had a lot of success. Alas, soon after I fell under the influence of the epidemic. Our theaters are closed. We we were supporting then by not eating. Hopefully once again we turned around. Our cinema also woke up. On this happy day, we would like to announce that we are planning to produce 4 feature films. The script is in running. I hope we can give you at least 3 movies in the coming year. Because we all have to keep that air of Bengali cinema together."
He also informed about the spread of Star Cineplex branches outside Dhaka. The list includes Chittagong, Bogra, Rajshahi, Cox's Bazar, Sylhet, Khulna and other districts across the country. Mahbub Rahman said, "Today we have crossed 18 years. Hopefully from now on, the censor board will also allow us to release more than 18 films. More importantly, we have managed to deliver 18 screens in 18 years old. But my goal is a century. I am constantly working towards this goal. Among them, projects are underway in many neighborhoods, some neighborhoods are looking for premises. I believe that we can add 100 screens, however, with the initiative of the Honorable Prime Minister – 100 screens will soon be made. I believe that our theatrical crisis will be solved by combining the two. For this, films like 'Paraan', 'Hawa', 'Operation Sundarbans' and 'Damaal ' are necessary."
The long-awaited 'Damal' team (Raihan Rafi, Siam Ahmed, Meem etc.) were present at the time. There was also 'Rehana Mariam Noor' Ajmeri Haque Bandhan, 'No Dorai' Sunerah Binte Kamal, 'Bishvasundari' Chayanika Chowdhury, 'Operation Sundarban' Dipankar Dipan, 'Chadar' Simon and many more.
On this day (October 8) in 2004, the first branch was launched at the Star Cineplex in Bashundhara City Mall in the capital. The 18-year-old company has opened more branches in Dhanmondi, Mohakhali, Vijay Sarani and Mirpur.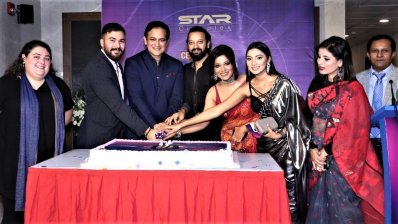 #Star #Cineplex #announced #production #films