TV
Those who received the 'Deepta Award 2022'
Those who received the 'Deepta Award 2022'
On the occasion of the 7th anniversary of Deepta Television, the 'Deepta Award 2022' has been awarded for the second time. This award was given in various categories based on single and serial dramas aired on Deepta Television, dubbing series and single dramas discussed on Deepta Digital platform in the past year. Viewers voted for what they thought were the best dramas and performers in 19 categories. The final winner was selected taking into account the votes of the public and the judgment of the jury received on the link of the website of Deepta TV.
Categories and Sections 'Deepta Award 2022' – Single Drama: Nominated for Single Drama 'Atirikt', Chosen Male Actor 'Farhan Ahmed Jovan', Chosen Female Actor 'Sabila Noor'. Serial Drama: Featured Serial Drama Named 'Bakulpur', Male Actor Named 'Drama: Mashrafe Junior, Shatabdi Wadud', Female Actor Named 'Drama: Bakulpur, Nadia Ahmed', Male Supporting Actor Named 'Drama: Bakulpur, Azizul Hakim' , Supporting Actress – Female was selected for 'Drama: Bakulpur, Swarnalata'. Emerging performer: nominated for "Serial Drama Mashrafe Junior: Safana Namani".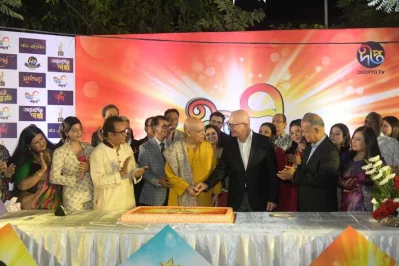 One-Drama on digital platform in audience survey: One-Drama named "O Amar Bone Na", male actor named "Ziaul Farooq Apoorva", female actor named "Tasnia Farin & Vidya Sinha Saha Meem Together" .
Serial Dub: Hot Dubbed Serial Nominee 'Janani Janmabhoomi', Singer – Male Nominee 'Character: Jevdet, Deepak Suman', Singer – Female Nominee 'Character: Phyllis Elibol, Jayashree Majumdar Lata', Singer – Male 'Character: Toufan, Morshed Siddiqui Maru' was selected, Female Side Voice Artist was selected 'Character: Hilal, Nahid Akhtar' and Talk Presenter was selected 'Dilara Hanif Purnima'.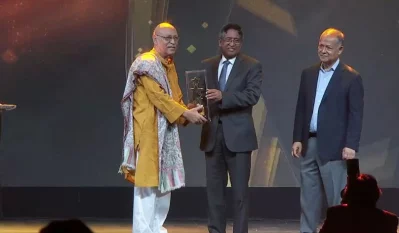 Also, "Lifetime Honor" was added to the Deepta Awards for the first time. Legendary Bangladeshi actor Abul Hayat was awarded the 2022 "Deepta Lifetime Honor Award" this year. Deepta Television feels honored to honor this meritorious person.
'Deepta Awards 2022' airs live Friday, November 18 at 7 p.m. Shakh, Dighi, Chandni, Nisha, Upma and Samit danced at the event. Asad Khan was in the choreography. There was also a performance by Obscure and Parthiv. The entire program was presented by Rouhani Salsabil Lavanya and Rafsan Sabab. The executive producer of 'Deepta Award 2022' is Wahidul Islam Shubhra.


#received #Deepta #Award